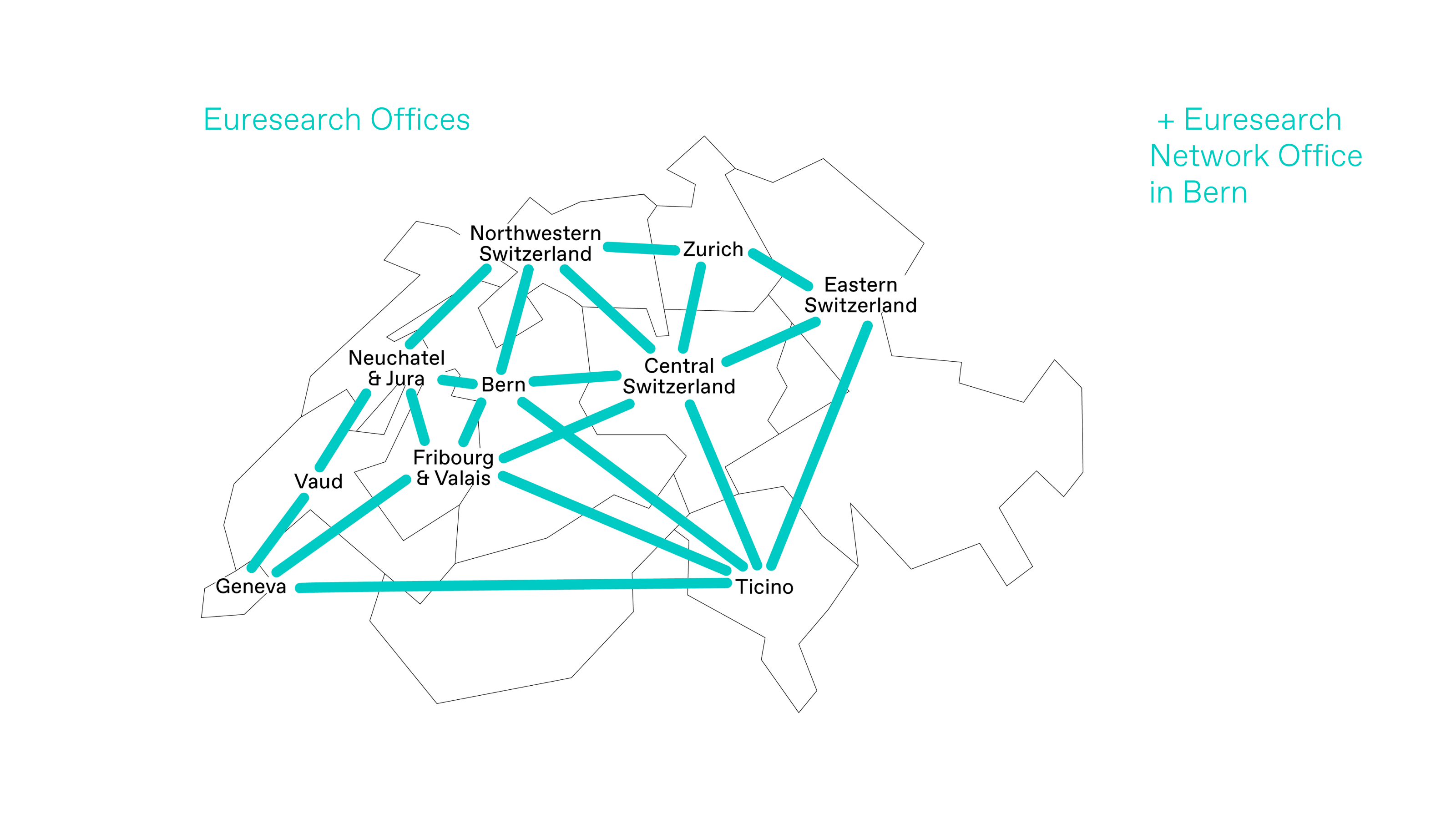 Eureseach provides information and guidance on cooperation and funding opportunities offered by the EU Framework Programme for Research and Innovation "Horizon Europe" and other European partnership initiatives. Researchers and innovators in Switzerland currently participating in EU framework programmes, or interested in participating in Horizon Europe, may contact Euresearch for information and advice.
Euresearch is a non-profit organisation with offices in all the Swiss regions and a Network Office in Bern and is funded by the State Secretariat for Education, Research and Innovation SERI. They promote and facilitate the participation of Swiss researchers, organisations and companies, in the EU Framework Programmes for Research and Innovation.
Researchers or any other interested party in Switzerland can request information on funding opportunities tailored to their specific research and collaboration goals or needs. Euresearch supports every step of the way during the application process, ranging from the search for research partners and relevant research topics, to writing a proposal and submitting the application to the chosen funding scheme. Euresearch advises throughout the various phases of project management and assists with any administrative questions. In addition, they offer training sessions and relevant workshops for applicants as well as specific events and services for companies.
Euresearch's Regional Offices are located all over Switzerland, hosted by universities, federal institutes of technology and universities of applied sciences. These are the first points of contact for all initial inquiries. The Euresearch Regional Offices have advisors who are familiar with the European funding opportunities and the specifics of their own institution, as well as company advisors who offer dedicated support to businesses.
The Euresearch Network Office is the operational centre of the Euresearch Association. The Network Office comprises all the National Contact Points (NCPs), who specialise in the various topics and areas of the European research and innovation programmes, and are familiar with the corresponding European networks.
Find more information here.
Institution Website
euresearch.ch
ADDRESS
Euresearch Network Office
Belpstrasse 11
CH-3007 Bern
Contact
+41 31 380 60 00,
info@euresearch.ch
Institution Website